21 Breezy Beach Pregnancy Announcements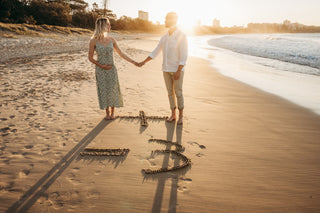 Sun's out, bump's out! The best time of year is upon us, and summer is such a joyful time to announce a special secret you've been keeping. If you live oceanside or have a beach vacation lined up, we have some of the sweetest and most creative beach pregnancy announcement ideas around. And hey, even into the fall and winter months, a lot of these beach announcement photos would still work beautifully. 
Beach pregnancy announcements strike the perfect balance of relaxation, happiness, and oneness with nature. Use the water, sun, and sand as a beautiful backdrop to the happiest news you've ever shared. Not beach-adjacent? That's okay, too. Some of these announcement ideas can be created digitally, even when there's no actual sand beneath your feet. Here are some beautiful beach pregnancy announcement ideas to help you share your big news! 
Black & White Beach Sonogram Pregnancy Announcement
Photo: Allie Wears
Black-and-white photography is the ultimate in timeless artistry. This idea says it simply, and oh-so-beautifully, for a beach announcement that deserves to be framed and not just posted. 
Bumpin' on the Beach Pregnancy Announcement
Photo: Love, Jess Marie
Cuddle up to your honey or strike a pose solo; if there's a budding bump on board, now is the perfect time to cradle it for the camera, using a gorgeous beach photo shoot to share the word. 
Beach Pregnancy Announcement Tee
Photo: Etsy/MolineyDesigns
If you're not yet showing, or just prefer a more casual look, we love the idea of an oversized tee that does all the talking. You'll want to live in this one for the rest of your pregnancy, and probably hold onto it for the memories, too. (Check out pregnancy announcement t-shirts for the whole fam!)
Beach Pregnancy Announcement Written in the Sand
Photo: Instagram/the_southerntransplants
Absolutely classic and super easy to pull off, find a stick on the beach and scrawl out your message in the sand. Props enhance the look but are by no means necessary. Can't get to a beach? This Etsy shop will create a custom announcement in the sand for you. Problem solved!
Sonograms by the Seashore Pregnancy Announcement
Photo: Oh How Charming
A romantic photo shoot in pale colors with your first glimpse at Baby on display… This is an image that will stop everyone's scroll.
Onesie Beach Pregnancy Announcement
Photo: Etsy/LovelyChaosPrints
This clever custom onesie announcement is actually a digital download. Just purchase and customize to tell the world you're pregnant—on a beach—without ever leaving the comfort of your living room. If you like the look but have an actual beach nearby or vacation planned, create something similar with any onesie strung up by the shore. 
Sweet Beach Pregnancy Announcement Signage
Photo: Allie Photo
What can we say? Some parents love a letterboard. Bring yours to the beach and set up the perfect family photo shoot around it.
Beach Pregnancy Announcement Swimsuits
 Photo: Oshey Vargas Photography
Dive into matching family swimwear for a beach pregnancy announcement that will bring you joy for many years to come.
Baby Shoes on the Beach
Photo: LexSentials
There's something so sweet about little bitty shoes in your hand when a tiny human is on the way. This announcement idea is incredibly simple, but so beautiful. 
Dog Beach Pregnancy Announcement
Photo: Instagram/penny_and_maisie
Get Fido and friend in on the fun with a beach-themed announcement that shares their news. Many parents include their pets in a first baby announcement, and this sandy-pawed cuteness is a great way to do so in summer. (Peep more pet pregnancy announcements!)
Toes-in-the-Water Beach Pregnancy Announcement
Photo: Jessica Buehler Photography
A sunset stroll, the ocean lapping at your feet, and an image of your happy news in hand… We'd say this is just about beach-baby-announcement perfection. 
Beachy Baby Tableau
Photo: Etsy/BumpsNBlessings
A bassinet on the beach—overflowing with baby things—warms the heart as the sun warms the sand. You can lug all this cuteness to your nearest beach, or buy the digital download pictured here and edit it with your info and baby photo in a few clicks. 
Beach Pregnancy Announcement Party
Photo: Charleston Crafted
Break out the balloons because a baby is on the way! We love how these parents made their beach pregnancy announcement fun and not fussy.
Matching Jackets Beach Pregnancy Announcement
Photo: Akiko Liu Photography
Mommy and Daddy are your proudest titles yet—wear them barefoot on the beach on adorable custom jackets and jaws will drop at how cute your baby announcement turned out. (Pro tip: Hold onto these and buy a miniature one so you can recreate these pics next year with your little love in tow). 
"Bigger Boat" Beach Pregnancy Announcement
Photo: Instagram/keiramaxime_
Got a third, fourth, etc. baby on board? You're gonna need a bigger boat… or beach cart, as the case may be! This family photo is adorable and hilarious. Once you have a big pack of kids running around, humor is necessary, so you may as well incorporate it now! 
Beach Pregnancy Announcement Under a Pier
Photo: Kristina Davini Photography
If you live near a pier or are visiting a beach that has one, don't miss your chance to take a shot like this one. Chances are, it'll be one of your favorite photos from this precious time.
Pregnancy Announcement Beach Hat
Photo: Etsy/SalvageGardenTX
No bump necessary; any parent-to-be rocking this hat will make the news known regardless. Gather up the troops and say "cheese" for a family photo your friends and loved ones will adore. 
Beach Pregnancy Announcement Cuddles 
Photo: Allie Wears
Laying down in the sand might get messy, but if you can capture a shot like this, it'll be more than worth it.
Baby on Board Beach Pregnancy Announcement
Photo: Wild Briar Co.
For the parents-to-be who love to "hang 10", a wooden announcement board captures the moment flawlessly. 
Big Sibs Beach Pregnancy Announcement
Photo: Stripes & Whimsy
Big bro and sis in smocked outfits spelling out their new titles is just about as heartwarming as it comes. This is an easy beach pregnancy announcement to pull off, and will fill you with all the feels every time you look at it now and in the years ahead.  
Message in a Bottle Beach Pregnancy Announcement
Photo: Instagram.com/kssimages
Family toes in the sand and the cutest sea-themed announcement yet. All it takes is a glass bottle and an ultrasound shot to send the perfect message… No words needed!
More Pregnancy Announcement Ideas: 
View more posts tagged, pregnancy announcements
Have questions about a Happiest Baby product? Our consultants would be happy to help! Submit your questions here.
Disclaimer: The information on our site is NOT medical advice for any specific person or condition. It is only meant as general information. If you have any medical questions and concerns about your child or yourself, please contact your health provider.