16 Nursery Ideas That Will Grow With Your Baby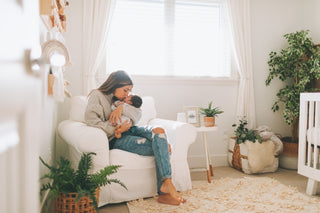 Note: While these nursery photos are gorgeous, please know that it's NOT safe to place stuffed animals, pillows, bumpers, or any loose items inside your infant's sleep space until Baby is a year old. —Dr. Harvey Karp
They grow up so fast! It's the sad truth no parent wants to be reminded of, but deep down we all know these sweet baby days are fleeting. And when toddlerhood and then childhood rush in at full speed, what happens to the nursery?
Baby room themes that will grow with your child can be tricky. You want your little one's space to feel babyish and special for those first year or two earth-side, while still being a room they want to hang out in next year, and in the years beyond that. 
There are some themes that work especially well for transitional baby rooms, letting you swap out or update a few details but keeping the main feeling in the room the same throughout toddlerhood and even elementary years plus. Here are some of the best nursery themes that grow with your child.
A Crib That Grows With Your Baby
The centerpiece of any baby or big-kid room is the bed! So your best bet is to pick a gorgeous crib that converts into an equally stunning toddler bed. Enter the Lola Convertible Crib. Our sleek, sustainable, modern crib design is a foundational piece to a not-too-babyish nursery. Then, when your kiddo is ready, it's piece of cake to convert to a toddler bed! We recommend pairing it with our DreamBreeZzz 2-in-1 Crib Mattress, which features a dual-sided core that has a safe, firm side for baby sleep and a cushier side for toddler sleep (plus our mattress is totally breathable, totally washable, and totally water-resistant!). 
Outer Space Nursery
Photo: @projectnursery
An outer space nursery is just out of this world adorable, and can be done in any overall design style you favor from monochrome to metallics, bold brights to subdued hues. Your little one will continue to love this theme when the crib is swapped out for a big-kid bed and long after. 
Elegant Floral Nursery
Photo: Full Spectrum Photography
There are so many ways to pull off a flower-theme nursery for your baby girl, and they're all beautiful. But if you are looking to invest in the future and have walls and accents she'll want to stick with, reach for a slightly more mature floral wallpaper; or an antique lighting fixture with roses and vines woven in; and an area rug that reads more "beautiful feminine space" than "baby room."
Primary Color Nursery
Photo: Patrick Cline
Toddlers and big kids love bright, bold colors, too! Using color as your theme is a smart cheat when putting together a baby room that will grow with your child. A statement-making chair in bright colors is a perfect piece to tie it all together. Plus, this theme is effortlessly gender-neutral, making it a great option if you are "team green."
Grand & Sophisticated Nursery
Photo: Baby Letto
Hear us out for a second: A baby room that looks like your own dream space for hanging out, thinking, and enjoying life. Grownup, deeply saturated colors, lush fabrics, leather! Can it be done for Baby? Oh, Mama, can it ever. And a nursery like this will last the whole 18 years until those bags are packed for college or the workforce. Thank us later! 
Horse & Hound Nursery
Photo & To Purchase: Spoonflower
The uber-masculine, British-leaning theme is a great way to build a space for your little one that doesn't feel too babyish, though it'll be really sweet as a nursery, too! Reach for leather, metal, browns, and greens, to build a baby room that feels like the English countryside for your bub. This wallpaper is a great place to start!
Outdoorsy, But Cool Nursery
Photo: Apartment Therapy
Kitsch baby rooms with sweet renderings of trees and flowers are wonderful. But if you want a nature-themed nursery that's going to last, try something slightly less babyish from the very start. This mountain-theme baby room inspiration is a perfect example. 
Blush & Black Nursery
Photo: Project Nursery
Another time when colors shine. Your little girl would love growing up in a space that is the epitome of sweet sophistication. As she ditches the mobile for throw pillows and the bows for books, the space will evolve but her elegant color scheme will remain the ideal backdrop. (See more pink nursery ideas!)
Blank Canvas Baby Nursery
Photo: Project Nursery
All white everywhere is a smart choice if you own stain stick, a great vacuum, and a bottle of bleach. When you design an all-white nursery it takes off the pressure of choosing a theme to grow with your child. In this iteration, the nursery has a mild safari theme, but as Baby grows, it will be as simple as swapping out stuffed animals and accent pieces in favor of new items to pivot the entire room to a direction that suits the child. 
Urban Chic Nursery
Photo & To Purchase Mural: Etsy
A city-themed nursery is such a fun and fresh idea. Whether you reside in an urban area or the 'burbs, deck your baby's room out in skyscrapers, taxis, and maybe even some subway tile for a timeless yet edgy style they'll love for a long time. 
Athletic Adventures Nursery
Photo & To Purchase: CB2
Sports-themed baby rooms are nothing new, and there are so many adorable and sweet ways to put one together. But if you want the nursery to grow up with Baby, consider a less babyish version, with elements like an actual basketball hoop or net, court lines, and a large-scale scoreboard as decor. Make sure to leave the room neutral enough to add their own flair and athletic passions throughout the years, and a shelf for trophies (now, stuffies) is a MUST. 
French Provincial 
Photo: Houzz
If anyone does boho nurseries right, it's the French. This classic decorating style transcends the American trend of boho-bougie for a look that's a little bit countryside and tres chic. This style is the original version of "shabby chic," but more in depth. With rustic yet ornate details, lovely pale colors, and antiques treated to a personalized facelift, you can have fun with a French baby room and watch it evolve in the years to come.
Vintage Music Themed Nursery
Photo: Still Being Molly
How about a baby room that totally rocks? Teal or candy pink, 1950s inspired walls, records on the ceiling, and coordinated art throughout make a music themed nursery a total hit for the littles. And swapping out the crib for a big kid bed in a couple years is pretty much all you'll need to change to get it ready for the next stages with your growing boy or girl. 
Lit Lover's Nursery
Photo & To Purchase: Etsy
From bedtime stories with you, to the chapter books that will mean so much to them as they discover reading on their own, a literature-themed baby room is a beautiful idea. Rather than sticking with storybooks and nursery rhymes which sway the theme younger, think old-school library vibes when you create this space.  
Into the Woods Nursery
Photo: Style By Emily Henderson
Forests and anything green always go well in a baby's room, and you can deck it out with pink, yellow, or blue accents to complement. But steer clear of cartoonish woods and choose a landscape like this one to create a magic within the space that will hold them throughout childhood. Check out more woodland nursery ideas!
Animal Print Nursery
Photo: Project Nursery
Like some of the other sophisticated nursery ideas on our list, you'll want to envision how you'd decorate your space if going with an animal theme and do that. Sometimes print makes a longer lasting statement than motifs or renderings. This leopard wall is a prime example of how an animal-themed nursery can take your child from the baby days to the teen years easily. 
A sophisticated nursery calls for a sophisticated baby bed: SNOO is a groundbreaking bassinet that responds to a baby's fussing with soothing womb-like sound and motion, calming most crying in under a minute! Learn more about SNOO. 
More Nursery Inspiration:
View more posts tagged, nursery themes
Have questions about a Happiest Baby product? Our consultants would be happy to help! Submit your questions here.
Disclaimer: The information on our site is NOT medical advice for any specific person or condition. It is only meant as general information. If you have any medical questions and concerns about your child or yourself, please contact your health provider.