40 Place Baby Names for Your Tiny Traveler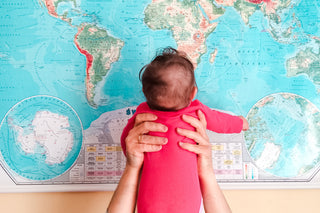 If only there were a roadmap that could lead you to the perfect baby name... Fortunately, in the absence of that magical tool, there are...literal maps! That's right. If you're looking for a meaningful baby name, why not start with a place that's near and dear to your heart? A place baby name is the route lots of modern parents have decided to take. But there's no need for you to search the globe high and low...we've put in all the legwork for you. Here, a few of our favorite baby names inspired by places. 
Place Baby Names for Boys
Afton: This neat sounding baby boy name is actually shared between two US cities; there's an Afton in Oklahoma and another in Wyoming. Interestingly, Afton is also the name of a river in Scotland. 
Austin: Your love for him is bigger than Texas; why not consider naming your baby boy after this free-spirited, warm and sunny Southern city? 
Boston: Cool, refined, and with an air of confidence… Boston is a wicked good name for a New England city and a sweet baby boy. 
Bronx: A quirky place baby name with urban appeal, after one of the five boroughs of New York City.  
Cairo: Egypt's capital is an edgy baby boy place name that's recognized but not overused. 
Caspian: This stunning sea name is as bold as it is whimsical, representing the large oceanic area between Asia and Europe. It shortens neatly to Cas for a nickname. 
Charleston: Our list is rife with Southern cities, because there are so many with incredible place baby name potential and gorgeous sights to see; South Carolina's delicious historic spot named the #1 small city in the US for the past several years is not a name to overlook. 
Dallas: Yep, we messed with Texas...again! Lone-Star-State names don't end at the start of the alphabet… this boot-rocking, sprawling city in a northern corner of the state deserves consideration (and definitely, a visit).  
Dayton: The western Ohio city offers a gorgeous river-walk, unique parks and museums, and most importantly, a unique place baby name that could work for either gender. It bears mentioning that you can feminize the name to Daytona after the Florida beach too, if so inclined. 
Everest: Name your kiddo after the earth's highest mountain to inspire him to never stop climbing and reaching for what's next.   
Houston: This cute place baby name has a couple of potential origin stories: It's a hot and rowdy Texas city (HEW-stun), or pronounced HOW-stun, a bustling street in lower Manhattan. You choose. 
Hudson: After the New York river or the Massachusetts town, it's a handsome boy name that's gaining popularity with US parents. 
Memphis: The Tennessee city best known as the birthplace of rock-n-roll and the home of the blues was actually named after a city in Egypt, giving this one double the cred as a fun place name for Baby Boy. 
Tennessee: Think broader and name your son after the state rather than your favorite city within; this charming place baby name was chosen by Reese Witherspoon for her third child. 
Zealand: A cool name with a retro feel after the island country of New Zealand, which boasts stunning natural vistas and exquisite animal life, not to mention a calm overall lifestyle. 
Place Baby Names for Girls
Adelaide: The South African coastal city has a charming, old-world name that is a beautiful pick for your princess. On its own, the name means "noble."
America: This proud pick is about as patriotic as they come for a US-born baby girl! 
Capri: This gorgeous Italian island off the southern coast in the Gulf of Naples makes a rare and exotic-sounding baby name. Capri is known for its fabulous coastline, a perfect spot for boating, sunbathing, and living your best ex-pat life. Sounds like a pretty stellar name for Baby Girl! 
Catalina: Santa Catalina Island in Southern California is another place-inspired baby name that brings the sunshine to our list.
Dominica: Not to be confused with the Dominican Republican, the Caribbean island called Dominica actually stems from the Italian, meaning "belonging to the Lord."
Florence: The capital of Italy's Tuscan region makes a stunning name choice for a baby girl. The name comes from the Latin, translating to "flourishing, prosperous."
Holland: A very sweet baby girl name easily shortened to Holly as a nickname; Holland is the name of the region containing two provinces in the Netherlands. The old English word means "wood-land."
India: Bold, beautiful, and full of intrigue… your little girl and the South Asian country you might consider naming her after. 
Nara: This city in Japan features beautiful temples, shrines, and fine gardens to explore. As a name, it means "happy." 
Paris: One of the most famous place names around, thanks in large part to the Hilton heiress, but also because it's just so pretty! The City of Lights makes a magnificent moniker for a chic little princess born anywhere. 
Savannah: The coastal Georgia city is known for its history and charm (think: cobblestone streets and Spanish-moss-draped trees) as well as a modern emerging food scene and proximity to the beach. As a baby girl name, it's breathy and beautiful, and rolls off the tongue.  (See more southern baby names!)
Shenandoah: It's an absolutely gorgeous place name that translates to "beautiful daughter of the stars" from the Algonquins. The national park by this name extends along the Blue Ridge Mountains of Virginia. It also made an appearance in the megawatt country-folk song by John Denver entitled, "Country Road," for a name packed with history and hyper-localized meaning. 
Vienna: Austria's capital city is a popular tourist spot for Americans and those from Italy, Russia, and Germany, and it makes a charming place baby name choice for a baby girl.  
Zaria: This Nigerian city has a rich history and boasts beautiful architecture including their famous "ancient wall." Zaria translates to "rose" in Arabic, for an extra layer of sweet meaning. 
Gender-Neutral Place Baby Names
Aspen: The Colorado ski town is a luxe destination for lovers of the winter sports, and makes a charming name for a baby boy or girl. 
Brooklyn: New York's famed borough is a super popular gender-neutral baby name choice; its meaning is "marshland" from the Dutch. 
Dakota: Whether you're thinking North or South, this US state name is a modern favorite. The unisex place name has tribal Sioux origins, translating to "friendly one." 
Denali: North America's highest elevation point is located at the Denali National Park and Preserve in Alaska. It's a bucket-list location for travel and certainly a worthy place baby name choice for a son or daughter. 
Italy: A beloved European nation rich in culture and history—and, of course, famous for its food and arts—consider bestowing this gender-neutral baby name on your little bundle.  
Kensington: It's one of London, England's most famed and affluent neighborhoods, making it a posh sounding gender-neutral name to consider. (See more British baby names!)
London: Speaking of London, the city known as The Big Smoke for its moody weather is a glamorous international baby name for a boy or girl. 
Phoenix: Back to the sunny side, this Arizona city is known for its gorgeous, year-round warm weather and botanical gardens. It's a perfectly bright and cheerful name with a bit of hipster appeal. 
Salem: While the witch trials this town is known for doesn't exactly represent one of the country's high points, the historic Massachusetts city does offer up plenty of tourist attractions and a pretty cool-sounding place name possibility.  
Skye: Scotland's Isle of Skye gives a place meaning to a popular baby name for boys and girls; it's known for historic fishing villages and medieval castles, offering up plenty of sweet reasons to put it on your travel wish list. 
Windsor: A Canadian city in Ontario just across the Detroit River from the US city of that name, Windsor makes an adorably refined choice for a tiny boy or girl. 
More Baby Name Inspiration:
If you're still looking for inspiration after searching the world far and wide, take a peek at our other favorite. Then, once you have the perfect name in mind, it's time to pick out a baby bed! Learn more about why parents and babies love SNOO Smart Sleeper!
Have questions about a Happiest Baby product? Our consultants would be happy to help! Submit your questions here.
Disclaimer: The information on our site is NOT medical advice for any specific person or condition. It is only meant as general information. If you have any medical questions and concerns about your child or yourself, please contact your health provider.