SNOO Dad Carter Reum Talks Fatherhood and Paris Hilton Becoming a Mom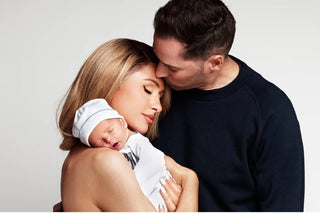 Carter Reum is an author, entrepreneur, venture capitalist, and adoring husband to pop culture icon Paris Hilton. But perhaps his most notable role is of Dad to baby boy Phoenix, whom he and Paris welcomed to the world in January 2023. While Carter is still working on his dad-joke game, he's happy to report that his baby is already quite the budding musician—kind of! In honor of Father's Day, Happiest Baby stole a minute out of this busy new dad's schedule to answer a few rapid-fire questions. Here's what he had to say: 
Happiest Baby: What makes you most excited—and most nervous—about being a new dad to Phoenix?
Carter Reum: Being a parent doesn't come with a playbook, so I'm just trying to learn as we go—and enjoying every minute of it!
HB: As a dad to a newborn, what baby items have been most helpful to you?
CR: We naturally couldn't live without our SNOO! We also love his little mat where he plays music with his feet. It puts the biggest smile on his face. 
HB: What's surprised you the most about being Phoenix's dad?
CR: The joy I feel from just seeing him smile and engage.
HB: What's the best piece of parenting advice you've received?
CR: Enjoy every minute because it goes by fast.
HB: What's it like seeing Paris become a mom?
CR: She's just so in love. Being a mom makes her heart so full. I get as big of a smile seeing her joy as I do seeing Baby Phoenix's joy.
HB: Are you a dad-joke teller? If so, what's your fave?
CR: Don't have any dad jokes yet. I'll have to buy a dad joke book from Amazon! Ha!
You May Also Be Interested In…
View more posts tagged, real stories
Have questions about a Happiest Baby product? Our consultants would be happy to help! Submit your questions here.
Disclaimer: The information on our site is NOT medical advice for any specific person or condition. It is only meant as general information. If you have any medical questions and concerns about your child or yourself, please contact your health provider.