The Baby Sleep Advice All Parents Need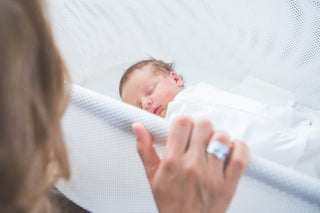 On This Page
Babies are extremely sleepy their first few days after birth. In fact, newborns can only stay awake for 45 minutes to an hour max before sleepytime comes again. Because of this, many new parents might think baby sleep is going to be a breeze! But as seasoned parents know: Change is coming! After all, it's totally normal for newborns to mix up their days and nights and for their sleep to not follow any distinguishable pattern at first. Couple that with your sleep changes and it can get pretty tricky navigating baby sleep. And that's why we're here to help! Here, we've collected some of Dr. Harvey Karp's very best Baby sleep advice to help guide you through these early days.
Baby Sleep: Newborn Sleep Tips
Consider this your starter guide for helping your newborn get the rest they need.
A Sleep Schedule for Your Baby's First Year
All parents want their infants to sleep well. But many simply don't know what "sleeping well" is for a little one. Here's how to figure out your baby's sleep schedule.
How Much Should a Newborn Sleep?
Infants rack up more sleep than at any other time in their life, often snoozing for 16 hours a day! Find out how your newborn's sleep habits stack up.
Why You Should Use a Baby Sleep Tracker
If you don't keep a log of your baby's sleep, it's super hard to remember how long your infant was down for, how often they woke, and what helped them get to dreamland. Here's how to track Baby's sleep so you all snooze more.
Sleep Cues To Help Baby Sleep 
Good sleep cues help your baby fall asleep fast—and stay asleep longer—they're also easy to use and are not difficult to wean from. Here are the most effective sleep cues for Baby.
The Ideal Time to Put Baby Down to Sleep
If Baby's eyes are lidded and their little head slumps against your shoulder, those are sure signs that you've past Baby's best baby bedtime. Here's how to get Baby to bed before they get overtired.
How to Change Baby's Sleep Pattern From Day to Night
Is your baby sleeping during the day, but not sleeping at night? Let Dr. Harvey Karp help set your baby up for nighttime sleep success! 
Breaking Bad Newborn Sleep Habits
If you're tired and frustrated over being your baby's sleep aid, it's the perfect time to help your little one learn some new healthy sleep habits. Learn the clues that it's time for a change.
What To Do If Your Newborn Won't Sleep
Yikes, Baby isn't sleeping! Find out the most common reasons newborns aren't sleeping at night—and what to do about it.
Baby Bedtime Routine Made Simple
Most babies are receptive and able to start a bedtime routine at around 6 to 8 weeks. Here's how to get started with your baby's bedtime routine.
When Colic Keeps Baby Awake
Most babies who cry inconsolably aren't sick—thank goodness! But they are "homesick"...for the womb. Learn how to spot sleep-sapping colic and what to do about it.
Baby Sleep: The 5 S's of Baby Sleep
Here, Dr. Harvey Karp offers an overview of the famed 5 S's of baby sleep and how they expertly work to calm babies and help them sleep better. More details below:
How

S

waddling Helps Babies Sleep
The cozy hug of a proper swaddle does an amazing job helping a baby sleep.
Shhhh (aka White Noise) Works Wonders on Baby's Sleep
White noise mimics the Shhhh sounds Baby heard in the womb. Recreating this calming sensation helps settle babies to sleep.
S
winging or Rocking Is a Sleep Cue
Swinging is another copy-cat womb-like sensation. Here's how to safely make it part of your baby's calming and sleep routine.
S

ucking Calms Babies
Whether a thumb, a pacifier, or a tiny hand, babies love to suck. The sensation is one of your little one's natural calming reflexes. 
S

ide or Stomach Position is Great for Calming
While the side and stomach position is excellent for calming babies, it's not recommended for sleep. Learn why.

Baby Sleep: Your Baby Sleep Questions, Answered!
There are so many questions that swirl around baby sleep. Here, Dr. Harvey Karp tackles some of the most common sleep questions parents ask.
Baby Sleep: Sleep Safety And Your Baby
Making sure your baby sleeps soundly is only one baby sleep goal. The other: Making sure Baby is safe while slumbering. 
Baby Sleep: Sleep Regression Help
Sleep regression is normal! But that doesn't make it any less frustrating. Here are Dr. Harvey Karp's expert tips on getting through.
Baby Sleep: Sleep Training How-Tos
"Sleep training" sounds nerve wracking and tear-filled, but it doesn't have to be. We've got the scoop on how to sleep train your baby so that it works for you and your little one.
Baby Sleep: Breastfeeding, Twins, Preemies, and More! 
Baby Sleep: Our Best-Selling, Pediatrician-Designed Sleep Products
SNOO Smart Sleeper: The award-winning responsive SNOO bassinet uses gentle rocking, a safe swaddle, and white noise to boost baby's sleep for all naps and nights. Its quick response time often calms upset babies in under a minute and SNOO can add 1 to 2 hours of sleep per night.
Sleepea Baby Swaddle: Another award-winner, the 5-second baby swaddle has special inner arm bands and leg flap to keep even little Houdinis bundled safely all night. The swaddle also features extra-quiet Velcro, a double-zipper, breathable mesh to keep babies cool and comfortable, and Sleepea converts to an arms-out swaddle when needed. 
SNOObear: It's a white noise machine, a lovey, and a fun puppet—perfect for babies and toddlers! SNOObear not only gives Baby the same unique white noise sounds as SNOO, it's responsive as well. That means, after the sound turns off, SNOObear continues to monitor your baby and automatically turns back on if your baby cries.
Happiest Baby books: It all started with the best-selling and game-changing The Happiest Baby on the Block book and continued with the toddler edition and the all-sleep version, called The Happiest Baby Guide to Great Sleep. Today, hospitals and parenting classes around the world continue to teach the sleep and calming methods featured in these iconic books.

Looking for toddler sleep tips? We've got that covered, too! Check this out for all things toddler sleep.
Have questions about a Happiest Baby product? Our consultants would be happy to help! Submit your questions here.
Disclaimer: The information on our site is NOT medical advice for any specific person or condition. It is only meant as general information. If you have any medical questions and concerns about your child or yourself, please contact your health provider.