What's a Postpartum Doula?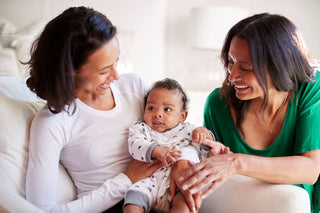 We all need help after a new baby arrives. For some, that help comes by way of a supportive and knowing partner. For others, a trusted family member or friend who can lend a hand (and a shoulder). But for many, getting postpartum help is illusive, at best. Non-birthing parents are often just as sleep-sapped and new to the game as their partners. And a new parent's would-be village lives too far away to give you the kind of help and support you truly need. Plus, a new survey found that 57% of parents stop themselves from even asking for help because doing so makes them feel like they're a failure. But asking for—and receiving—help can make a world of difference for a new parent's mental and physical health. Enter: the postpartum doula. Unlike birth doulas who assist during childbirth, postpartum doulas guide parents through the early weeks after birth, not only teaching need-to-know skills like how to swaddle and soothe your newborn, but offering rest, reassurance, and loving support. So, if you're asking yourself, "Do I need a postpartum doula?" read on to find out.
What does a postpartum doula do?
A postpartum doula offers physical, emotional, informational, and hands-on support to new parents and their families during the postpartum period, often called the fourth trimester. Postpartum doulas are there, essentially, to mother the new parents and hold their hand through this life-changing transition. While not all postpartum doulas offer the exact same set of services, they all understand what the postpartum period looks and feels like for both parents and babies, which is invaluable. Many postpartum doulas provide information and/or support regarding…
Rest, healing, and personal care

Transitioning to new parenthood

Breastfeeding and pumping

Infant feeding

Soothing

Bonding

Babywearing

Infant care, like diapering, burping, and bathing

Sibling care and adjustment

Resources and referrals

Light housework

Meal prep
Postpartum doulas can work during the day or evening. They can come daily or less often. And their hours can vary, typically landing somewhere around four-to-five-hour shifts, depending on your needs. While some new parents want a postpartum doula during the entire fourth trimester, others opt for a few weeks. In the end, it's entirely up to you how much help you want—and can afford.
What are the benefits of having a postpartum doula?
The benefits of having a postpartum doula are vast. A postpartum doula's goal is to help you transition into your brand-new role as New Parent. There's no judgment or emotional baggage, just help and support, which leads directly to parents feeling empowered. Research has shown that postpartum doulas can also…
Bolster breastfeeding rates. Did you know that about 92% of parents surveyed experience problems breastfeeding their babies a mere three days after giving birth? And that early nursing problems are associated with stopping breastfeeding? It's true. Also true: Doulas provide important infant feeding information—and emotional and physical support—in those super-vulnerable days after birth. In fact, doulas can improve the likelihood a parent will breastfeed, according to a 2021 report in The Journal of Perinatal Education. Plus, it's thought that parents who enlist the help of a postpartum doulas have a higher satisfaction with breastfeeding and may nurse longer than those without the extra support.
Increase self-confidence. When you have access to a postpartum doula, you get hands-on one-on-one training for all things Baby. So, it's no wonder that the combo of emotional, physical, and educational support provided by a postpartum doula has been found to increase maternal self-confidence across the board. And that's incredibly important because further research shows that folks with higher levels of parental confidence are more likely to parent in ways that support their children's skills, talents, and interests down the road.

Help curb postpartum distress and depression. Research has suggested that a new parent's lack of—or dissatisfaction with—social support can amp up their risk for postpartum distress, baby blues, and postpartum depression. A postpartum doula, however, may be just the support new parents need. A recent Australian study noted that a new parent's ideal form of social support is often simply having the opportunity to talk to someone who would empathize with them. Moreover, research featured in the Journal of Primary Care & Community Health found that new parents who received postpartum doula support (versus telephone support) were significantly more satisfied with the support they received—and they showed greater improvements in depression scores.

Help spot signs of trouble. Many postpartum doulas are trained to identify early signs of depression and can offer resources so you can get the help you need, quickly. While postpartum doulas aren't medical professionals, they may be able to help spot other signs that could indicate that you—or your baby—may benefit from seeing a healthcare pro, like a pelvic floor specialist, a lactation consultant, or your OB/GYN.
How is a postpartum doula different from a baby nurse?
A postpartum doula's job is to care for the new parent, so that they are better prepared and equipped to care for the new baby. A baby nurse (aka: night nurse or newborn care specialist) is there solely for the baby's needs, such as overnight diaper changes, feeding (or bringing Baby to a parent for a feed), and getting the baby back to sleep. It's important to note that a "night nurse" usually is not a nurse at all. Technically, you need to hold an R.N., L.V.N., or L.P.N. degree to be called a nurse.
Are postpartum doulas licensed?
There is no overriding agency that certifies all postpartum doulas and postpartum doulas do not need to be certified to practice. But that doesn't mean you shouldn't look for a postpartum doula who is certified! Knowing how (and when) your prospective postpartum doula was trained can help you make an informed decision. Plus, some private insurance companies and some Medicaid programs, like in Minnesota, cover doula services when care is provided by a certified doula. So, it's important to check to see which certifying organizations fit the bill before starting your search.
How much does a postpartum doula cost?
Right now, at least 17 states are considering, planning, or implementing policies to provide Medicaid reimbursement for certified doula services. And some private insurances may cover postpartum doula services. But in most cases, new parents will have to pay out of pocket. According to the International Doula Institute, postpartum doulas who practice in big cities often charge between $35 and $65 an hour, or more. Meanwhile, in smaller towns, the price-per-hour is more likely to hover between $25 and $35. At the same time, doulas often offer package discounts for, say, scheduling in advance or booking birth doula and postpartum doula services at the same time.
When should I hire a postpartum doula?
While many expectant parents hire a postpartum doula during their second or third trimester, it's not too late to hire a postpartum doula after Baby arrives. In fact, lots of families don't realize that they'd benefit from a postpartum doula until after the baby is born and at home! That said, if you can, it's a good idea to investigate your local postpartum doula options before your baby arrives. That way, you're more likely to find a postpartum doula with availability that meets your needs and you won't find yourself searching for the ideal postpartum doula while also caring for your newborn.
Where can I find a postpartum doula?
There are a number of well-respected doula certifying organizations out there that offer find-a-provider directories, including DONA International, which is the world's largest doula certifying organization, the International Childbirth Education Association, Childbirth and Postpartum Professional Association, and National Black Doulas Association. You can also ask your OB/GYN or midwife who they might be able to recommend or try a service like Boober, where you can be matched with a certified doulas (in all price ranges) in your area.
More info on postpartum support and doulas:
***
REFERENCES
MDLIVE: New Research Reveals Crippling Mental Health Burden for America's Moms, May 2022
Breastfeeding Concerns at 3 and 7 Days Postpartum and Feeding Status at 2 Months, Pediatrics, October 2013
An Integrative Review: The Role of the Doula in Breastfeeding Initiation and Duration, The Journal of Perinatal Education, January 2021
The International Childbirth Education Association: The Role and Scope of the Postpartum Doula
Mothering the mother: can a postpartum doula enhance maternal self confidence and maternal empathy in a primiparous mother?, Smith College, 2008
Trends in parental self-efficacy between 1999 and 2014, Journal of Family Studies, March 2021
First-time mothers' perceptions of social support: Recommendations for best practice, Health Psychology Open, January - June 2020
Postpartum Doula and Peer Telephone Support for Postpartum Depression: A Pilot Randomized Controlled Trial, Journal of Primary Care & Community Health, 2013
Minnesota Department of Human Services: Doula Services
Georgetown University Health Policy Institute Center for Children and Families: Doula Services in Medicaid: State Progress in 2022
International Doula Institute: Doula Salary
Have questions about a Happiest Baby product? Our consultants would be happy to help! Submit your questions here.
Disclaimer: The information on our site is NOT medical advice for any specific person or condition. It is only meant as general information. If you have any medical questions and concerns about your child or yourself, please contact your health provider.