19 Halloween Costumes for Families Big and Small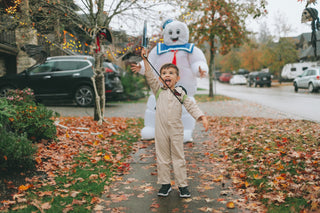 On This Page
There's something extra fun about group costumes, and kids are the cutest Halloween conspirators, which means that family Halloween costumes are a must! Whether you want to go funny (or punny) with your family Halloween costume, pay tribute to your favorite piece of pop culture, or simply show off your creativity, we've got plenty of inspiration. Keep reading for the best Halloween costumes for families of any size!
Parent-and-Baby Family Halloween Costumes
Welcome to parenthood, where you'll have a Halloween buddy for life…or at least until the preschool years when tykes start to develop strong opinions about, well, just about everything! Until then, take advantage of the pre-Paw Patrol and princess years and enjoy calling the shots with a baby-and-me costume.
Mama and Baby Kangaroo Family Halloween Costume
Photo and How-To: HGTV
Calling all baby-wearing enthusiasts! It takes very little effort to turn your favorite carrier or wrap into this cute parent-and-me Halloween costume.
Mom and Baby Family Croissant Halloween Costume
Photo and How-To: Oh Happy Day
Here's a Halloween costume that Francophiles will deem très magnifique: Put on your favorite Breton stripe tee and a beret. Then fashion a piece of yellow foam into a giant croissant that you can affix to your baby carrier. Voila! Halloween perfection. 
Pasta Parent-and-Baby Halloween Costume
Photo and How-To: Studio DIY
If your go-to carb leans more Italian than French, consider this good-enough-to-eat parent-and-baby Halloween costume! Choose your fave noodle, pick up some yellow craft foam, and you're ready to cook up a cute costume for your bambino!
Family of 3 Halloween Costumes 
They say three is a magic number—perhaps because it gives you so much to work with during spooky season. The proof? These family of three Halloween costumes.
Cookie (Monster) & Milk Family Halloween Costume
Photo: @arejay5
Your mini-Cookie Monster can live out their ultimate fantasy: a night spent in the company of cookies and milk. Nom nom nom nom!
Hungry, Hungry Hippo Family Halloween Costumes
Photo and How-To: Sugar and Cloth
The classic kids game will never look cuter than when your little one is decked out as one of its chomping hippos. It's a snap to put together (monochrome outfit + hippo-head hats) and can be easily adapted for a family of four. Munch munch! 
Family Weather Halloween Costume
Photo and How-To: Studio DIY
When you're rocking this family Halloween costume, there's a 100% chance of smiles in the forecast! While you can let your little cloud roam free, this rainbow chariot is a cute and convenient way to cart them around while trick-or-treating.
Duck, Duck, Goose Family Halloween Costume
Photo and How-To: Dress Up Buttercup
It may have been a couple of decades since you last played "duck, duck, goose," but that doesn't matter. Wordplay + baby animals = family costume success!
Titanic Family Halloween Costume
Photo: Merrill Melideo (@merzydotes)
Okay, this unsinkable family costume idea will be totally lost on your baby or toddler. But for millennials who are still recovering from the trauma of (spoiler alert!) watching Jack Dawson drift to the bottom of the ocean (there was room on that door for both of you, Rose!), it's nothing short of cathartic. And it should get you a few knowing chuckles as you sail through your neighborhood trick-or-treating.
Where's Waldo Family Halloween Costume
Photo and How-To: Lovely Indeed
No need to search high and low for the perfect family Halloween costume: A Waldo costume checks all the boxes. Easy to make? Check! Recognizable? Check! Darling on a baby? Check!
Jurassic Park Family Halloween Costume
Photo: Cupcakes & Cashmere
Turn a solo toddler or baby dino costume (either DIY or store-bought) into a ferocious family Halloween costume by pairing it with some khakis and a couple of button-down shirts. 
S'more Family Halloween Costume
Photo and How-To: Allie Seidel
This costume is almost as easy-peasy to put together as the dessert that inspired it! If you have a fourth person who wants in on the Halloween fun, you could add a second graham cracker or a crackling bonfire.
Family of 4+ Halloween Costumes
When you have two or more kids in the mix, there's even more room to get creative with your family Halloween costume!
Garden Family Halloween Costume
Photo and How-to: Homemaker's Habitat
This cute family Halloween costume gives you lots of options to make it work for your family: flower + baby, beekeeper + bee, or another combination of garden-themed critters. And, as shown, you could adapt for more than one kiddo or your bub and a furry friend. This fam also smartly came up with an idea where it totally made sense to have their toddler in a wagon (meaning no tired legs come trick-or-treat might!).
Little Mermaid Family Halloween Costumes
Photo: Dads by Design
Whether you grew up with the original The Little Mermaid or your kids fell in love with the live-action update, how could you not want to be part of this world? And there's plenty of room under the sea for everyone to take part in this family costume—you could add an Ursula, Flounder, Scuttle, and more!
Bluey Family Halloween Costumes
Photo: @susielynnmakeup
It's Heeler-ween! Embody your tot's (and your?) favorite furry family with Bluey, Bingo, Mum, and Dad costumes. (More than two kiddos? Bring Muffin and Socks into the fold). Hooray!
Star Wars Family Halloween Costume Ideas
Photo and How-To: Lovely Indeed
Is the Force strong within your family? Then you can't go wrong with a Star Wars group costume. Bigger fams could easily add a Yoda or Chewy (or any number of characters from the vast Star Wars cinematic universe!).
Balanced Breakfast Family Costume Idea
Photo: @occasions.byshakira
On a day where everyone's got candy on the brain, you can still make the most important meal of the day look pretty good, thanks to this DIY group breakfast costume.
Monsters Inc. Family Halloween Costumes
Photo: @rachelryan.np
Put your scarin' skills to the test with this Halloween homage to Mike, Sully, Boo, and crew. 
Wizard of Oz Family Halloween Costume
Photo: Angela Price
It'll take a little more than a click of the heels to create this family Halloween costume, but the photo-worthy result will be well worth the effort! Feel free to swap out Glenda and the Wicked Witch for a Scarecrow and Toto, add a wizard and flying monkey, or shuffle the characters another way to fit your family configuration.
Addams Family Halloween Costume
Photo: Popsugar
There's a reason why this is a popular Halloween costume: It strikes the right balance of creepy, kooky, and pop-culturally relevant (snap snap!).
More Halloween Inspiration:
View more posts tagged, halloween
Have questions about a Happiest Baby product? Our consultants would be happy to help! Submit your questions here.
Disclaimer: The information on our site is NOT medical advice for any specific person or condition. It is only meant as general information. If you have any medical questions and concerns about your child or yourself, please contact your health provider.