Grandma Showers: Fun New Tradition or Tacky?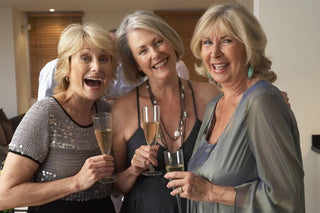 Becoming a grandparent is an occasion worth celebrating! And for some grandparents-to-be, that means having a grandma shower. Unsure what a grandma baby shower is? Keep reading to learn all about this budding trend and decide for yourself: Are grandparent showers inappropriate gift grabs—or are they thoughtful get-togethers to honor a special time in a nana-to-be's life?
What's the purpose of a grandma shower?
A grandma shower is similar to a regular baby shower, except instead of celebrating the mom-to-be, the guest of honor is grandma-to-be who's anticipating the arrival of their very first grandchild. If you're still scratching your head and wondering, Why are baby showers for grandparents a thing?, here are the main reasons folks throw a grandma shower:
What's the etiquette for a grandma baby shower?
As you might expect, grandma showers are controversial. After all, traditional baby showers are designed to celebrate mom-to-be, so grandma showers definitely have the potential to shift the spotlight and cause tension. That means, when planning a grandma shower, it's important to tread very lightly—and follow these grandma baby shower etiquette rules.
Grandma Shower Ideas
Here are a few grandma shower ideas to celebrate the nana-to-be:
You May Also Be Interested In…
View more posts tagged, baby shower
Have questions about a Happiest Baby product? Our consultants would be happy to help! Submit your questions here.
Disclaimer: The information on our site is NOT medical advice for any specific person or condition. It is only meant as general information. If you have any medical questions and concerns about your child or yourself, please contact your health provider.