12-Week-Old Baby Milestones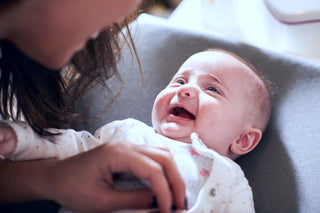 Drumroll, please... Your baby has officially graduated from the 4th Trimester! To put it another way: After nearly three months of life, most babies are actually ready to be born now (some are a little slower and need another month of cuddling to really wake up to the world). 
With the end of the 4th Trimester, you may notice that your once-fussy baby is much more content these days. Sure, there are some moments of vocal disapproval from your wee one, especially as they develop stronger opinions. But the tears-to-smiles ratio is moving in the right direction!
Parenting colicky babies can feel like constantly being on the defensive against triggers: forced to walk—or drive or bounce on a yoga ball—for hours during fussy periods. It can be exhausting. But with that (mostly) behind you now, it's time for some new, fun activities, like bedtime massages and stories.
Your 12-Week-Old Baby's Development 
Major Growth for One Important Muscle
You know those cognitive leaps your baby seems to be making? Those are reflected by the growth of their brain, which has grown a whopping 25% in size since birth. (And it's not done yet: Your baby's brain will double in size from the day they were born to the first birthday.) Senses that were fuzzy in the beginning, like vision and hearing clarity, are sharpening. They now notice us across the room and hear us down the hall.
Their brains are continuing to make millions upon millions of neural connections. (Amazingly, the number of these all-important neural connections peaks at 2 to 3 years of age!) That development is supported not only by reading and singing and seeing new things and people, but by caring responsive feeding, cuddling, consoling…all of which builds the secure and trusting bond—also called, attachment—that will be the foundation of your child's feelings of self-worth and ability to make friendships and share intimacy.
Look Who's Grabby
You may need to rethink dangling earrings for a while. Your baby's new dexterity skills make them quite skilled at grabbing. And few things are more appealing than your hair, glasses, or other accessories. (They like your face just the way it is, apparently!) 
While your baby is working on reaching and grabbing objects for now, the next task on the to-do list is shaking, rattling, and even throwing the things they manage to hold. You can help encourage these skills by placing colorful toys within your baby's arm's length during tummy time or while you sit with them on your lap. By cheering them on, you're not only giving them some encouragement for their motor skills, but you're also teaching them about communication and language. Win-win!
Note: Never have hot liquids around when holding your baby. Many parents and infants have been scalded when the baby suddenly lunged and pulled hot coffee off the kitchen table.
If you do get burned, immediately put the area under cold running water (or put a wet towel over the area with an ice cube on the other side, to keep it cool for a few minutes. (Putting ice directly on the skin can cause more damage!) And, of course, call your doctor. 
Your 12-Week-Old Baby's Health
With Baths, Less Is More
A warm bath is a nice addition to the bedtime routine, a good way to soothe your baby, and even a fun opportunity for play. There can be too much of a good thing, however—at least when it comes to your baby's sensitive skin. Here's what to keep in mind about bathing your baby. 
The American Academy of Pediatrics (AAP) recommends bathing your baby two to three times per week to avoid drying out your baby's skin. It's good to clean their bottoms with a soapy washcloth, every day.
AAP also suggests using a recently manufactured baby tub with slip-proof surface rather than an infant bath seat. If you're using the sink, be sure to line it with slip-resistant linking or a clean towel to prevent Baby from sliding. Always keep one hand on your baby during baths and drain the water immediately afterward.
Keep your own bath wash…just for you. Your baby is better off with a mild, unscented soap that is made specifically for babies. (Bar soap is good…less plastic to throw away.)
Follow up the bath with a little lubricating oil, like cocoa butter or coconut oil. 
< Your 11-Week-Old Baby | Your 4-Month-Old Baby >
View more posts tagged, milestones
Have questions about a Happiest Baby product? Our consultants would be happy to help! Submit your questions here.
Disclaimer: The information on our site is NOT medical advice for any specific person or condition. It is only meant as general information. If you have any medical questions and concerns about your child or yourself, please contact your health provider.