14 Easy Lunch Ideas for Daycare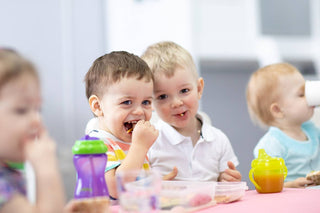 Daycare and aftercare programs all over America serve millions of kiddos snacks and meals thanks to the USDA's Child and Adult Care Food Program (CAFCP). Woot! But that doesn't mean every childcare program participates. And that doesn't mean you have to participate. So if you find yourself staring down an empty bento box with zero clue what to pack your toddler for daycare lunch…you're in luck! Here, 14 easy-as-can-be lunches your tot will love.
What to Consider When Packing Daycare Lunches
While you know your tot best, there are some universal lunchtime musts to keep in mind when packing a lunch for childcare. The best daycare or preschool packed lunches are: 
Easy-to-eat: To reduce frustration, make sure the foods you pack for your toddler are easy to open and eat. For example, remove edamame from pods, pre-peel clementines, open pre-packaged foods and place them in easy-to-open zipper bags. 

Allergy-friendly: About one in 13 kids in the United States has food allergies, including nut allergies, that can be life-threatening. Even if your childcare provider allows peanuts and tree nuts, it's smart to avoid these items to ensure every kiddo is healthy and safe.

Age-appropriate: Help your tot eat with ease by giving them age-appropriate portions, like a half sandwich instead of a whole. Giving too much food can be overwhelming and can lead to food waste. At the same time, offer pre-cut foods to prevent choking, like halved or quartered grapes and cherry tomatoes. 

Kid-friendly: Finger foods are a familiar crowd-pleaser for the toddler set, so packing those are an easy win. Also, it's best not to offer new-to-them foods in a packed lunch. Save those for home. 

Nutritious: Every bite counts with growing kiddos, so pack foods that contain lots and lots of nutrients. Whole grains, fruits, vegetables, dairy or non-dairy foods, and protein will help get them the nutrients they need…and keep them full and fueled to power through their day. And don't forget the healthy beverage! Pack 4 to 6 ounces of milk and water for your little one.
Easy Daycare Lunch Ideas
The best daycare lunches are the ones your kiddo will eat! And, guess what? They'll totally eat these nutritions and well-balanced lunches, designed to be the just-right amount for your growing 2- to 3-year-old. 
Toddler Daycare Lunch Idea #1: Hummy Ham Roll-up
Toddlers love fun lunchtime finger foods like roll-ups. In fact, tots who are picky eaters will often eat foods in roll-up form that they wouldn't even consider otherwise! For this roll-up, spread a quarter cup protein-packed herb hummus on half a whole wheat tortilla. Add one or two slices of low-sodium deli ham slices, roll it up, and cut into pinwheels that are easy for your child to pick up. Compliment the meal with a quarter to a half cup sliced strawberries and the same amount of cucumber coins.  
Toddler Daycare Lunch Idea #2: Tofu Mac 
This yummy lunch offers lots of fiber, calcium, and protein to keep your tot satisfied. Whether you're using homemade mac and cheese or your child's favorite boxed mix, while it's still hot, portion out a quarter cup and add one ounce of chopped soft tofu. Stir until combined and place in an insulated container. Include a quarter cup of cooked broccoli and a quarter to a half cup blackberries (quartered) on the side. Hot tip: To keep your child's thermos warm, fill it with boiling water and close, letting it sit for a few minutes before pouring the water out. Next, add your warm food, shut, and pack!
Toddler Daycare Lunch Idea #3: Pizza Pocket
Liven up lunch with a homemade pizza pocket your rascal will rave about. Fill half a whole wheat pita pocket with four tablespoons tomato sauce. (Spread evenly so every bit is covered.) Stuff the pocket with a quarter cup shredded mozzarella and six slices of pepperoni, chopped. Pop in the oven for four minutes at 360 degrees Fahrenheit. When done, wrap in foil (or place in an insulated container) to keep warm. While the CAFCP notes that four tablespoons of tomato sauce is one serving of vegetables, consider tossing in a quarter to half cup of thinly sliced carrot sticks in the mix, too—along with half an apple, peeled and sliced.
Toddler Daycare Lunch Idea #4: Breakfast Lunch 
You can't go wrong with breakfast for lunch! First, put together a mini English muffin and honey sandwich by cutting a whole wheat English muffin in half, spreading a teaspoon of honey on the muffin and assembling. Next, include half a hard boiled egg, which offers a serving of protein and crucial nutrients like vitamin B6 and choline. Round out breakfast lunch with a quarter cup diced roasted potatoes and another quarter cup of canned peaches (packed in juice, but drained). PS: Research shows that canned peaches are just as healthy as fresh peaches and may even be a wee bit more nutritious. (The canning process can make certain nutrients more available to our body to absorb.)
Toddler Daycare Lunch Idea #5: Deconstructed Sandwich
Snag a toddler-friendly bento box for this one. (Bento boxes help you pack ingredients separately, which tots love.) Place one or two thin slices of low-sodium turkey deli meat in one compartment, a half slice of cheese in another, and a cubed or halved slice of whole wheat bread in another. In the remaining sections include a quarter cup chopped cherry tomatoes and a half kiwi, sliced. And don't forget the ice pack! Packing lunch meat without a cold pack can put your child at risk for possible foodborne illness.
Toddler Daycare Lunch Idea #6: Chicken and Fried Rice 
Fried rice is easy to make, a toddler lunch fave…and a great way to use leftover rice! Simply heat up a teaspoon of minced garlic in one and a half teaspoons of oil. Once the scent of garlic fills the air, add one cup of cooked brown rice to the skillet and one and a half teaspoons of low sodium soy sauce to the mix and stir until warmed. Spoon a quarter cup into your tot's thermos and either mix in an ounce of cubed grilled chicken or serve on the side. Finish the meal off with a quarter cup cooked and shelled edamame and a quarter to a half cup mandarin oranges, drained. Yums!
Toddler Daycare Lunch Idea #7: Sunflower Seed Butter & Jelly "Sushi" 
Nut-free spreads like soy and sunflower seed butter are excellent sources of protein and healthy fats, which keep toddlers full till snack time. Plus, "sushi" is beyond fun! To make, trim the crust off a half slice of whole grain bread and flatten with a rolling pin. Spread two tablespoons of soy or sunflower seed butter and one tablespoon of strawberry jelly on the bread. Next, tightly roll into a spiral and cut into four pieces. On the side include a quarter to a half cup pear slices and a quarter cup chopped roasted red peppers. (To keep pear slices from browning, squeeze lemon juice over them before packing.) 
Toddler Daycare Lunch Idea #8: Snack Lunch
The snack lunch is built to save time and to delight young lunch munchers! Bust out the bento box and place these items in the various compartments: three to four whole grain crackers, a quarter to half cup of antioxidant-rich blueberries, seven cheese cubes, and a quarter cup canned corn, rinsed and drained. Easy, easy!
Toddler Daycare Lunch Idea #9: Sliders! 
Whole grain- and protein-packed sliders work together to keep your tot full and energized. To help burgers keep their heat, place them inside of an insulated container already warmed. Build your slider with a whole-grain slider bun, a thin one-ounce burger (beef, turkey, veggie, or black bean), and a half cheese slice. For sides, consider one-fourth to one-half cup chopped cantaloupe and one-fourth cup roasted sweet potatoes (peeled and diced).
Toddler Daycare Lunch Idea #10: Deconstructed Taco Bowl
Deconstructed tacos are a fantastic lunch for kiddos because they get a wide variety of nutrition, the ingredients are toddler-friendly, and it's easy to eat. Add each ingredient to the bento box compartments: Quarter cup pinto beans (rinsed and drained), quarter to a half cup shredded lettuce, one-eighth to a quarter cup shredded cheese, half an avocado (cubed or spears), and a half cup brown rice. A quick lemon or lime squeeze over the avocado helps keep it from browning. 
Toddler Daycare Lunch Idea #11: BBQ Chicken Bento
BBQ brings lots of flavor and textures to your toddler's lunch that they'll love. And using a ready-made rotisserie chicken means less prep. Simply add each of the following ingredients to the bento box compartments: one ounce diced rotisserie chicken, one tablespoon BBQ sauce for dipping, half whole-grain roll, quarter cup cooked and chopped zucchini, and a quarter to a half cup clementine wedges.
Toddler Daycare Lunch Idea #12: Bacon Quesadillas 
Quesadillas are a beloved finger food for a reason: They're convenient and tasty! Fill half a whole wheat tortilla with one-eighth to one-fourth cup shredded cheese and one slice of cooked turkey bacon. Fold it over and microwave for one to two minutes until the cheese melts. Wrap in foil and toss in your tot's lunchbox along with a quarter cup of sweet peas and a quarter to a half cup of fresh pineapple tidbits.
Toddler Daycare Lunch Idea #13: Pesto Pasta Salad
This pasta salad lunch delivers lots of nutrients and flavors that'll tickle your tot's taste buds...and you can easily make it the day before! Prepare whole grain elbow pasta as you normally would, portioning out a quarter cup for your toddler. While still hot, stir in one teaspoon of pesto until combined. Offer one-eighth to one-fourth cup shredded mozzarella on the side along with a quarter cup of cut up green beans and another quarter cup of dried cranberries. (For young toddlers, dice dried fruit into small portions to prevent choking.)
Toddler Daycare Lunch Idea #14: Nuggets! 
Because who doesn't love chicken nuggets?! Include two to three air-fried or baked chicken nuggets, a quarter to a half cup diced watermelon, quarter cup roasted cauliflower, and one-third cup whole grain Goldfish crackers. To keep nuggets warm and crispy, place a dry paper towel at the bottom of a thermos before tossing them inside. The paper towel helps soak up extra moisture. 
View more posts tagged, feeding
Have questions about a Happiest Baby product? Our consultants would be happy to help! Submit your questions here.
Disclaimer: The information on our site is NOT medical advice for any specific person or condition. It is only meant as general information. If you have any medical questions and concerns about your child or yourself, please contact your health provider.