Why Getting Term Life Insurance Should Be on Every New Parent's To-Do List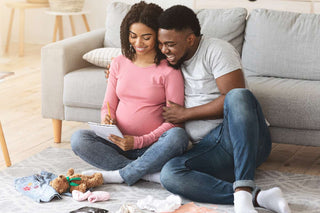 There's a lot to do to get ready to welcome a new baby…you have to stock up on baby gear, furnish the nursery, write a birth plan, read up on labor and delivery…and basically childproof your whole life. So, you could be forgiven if "sign up for term life insurance" is toward the bottom of your pre-baby to-do list.  
Why is life insurance so important? 
Still, locking down life insurance is one of the most important tasks you can do today to help secure your child's financial future!  
Life insurance is a must because raising kids is expensive.
Raising kids today can really take a toll on your wallet. According to one estimation, raising a child from infant to the age of 17 costs an average of $233,610, and the cost of childcare is outpacing the cost of college tuition in many states! There's no doubt that kiddos are worth every penny (and more!), but the expenses that go hand-in-hand with parenthood are more reason to make sure that you've established some kind of a financial safety net to cover costs in the event of tragedy. 
Parents need life insurance because we can't predict the future. 
No matter how many advancements we make as a society, the future is still unknowable! And as unpleasant as your or your partner's passing is to contemplate, a parent's untimely death can be shattering not just emotionally, but financially too. Fortunately, term life insurance through online life insurance agency Haven Life can help provide that extra protection—and peace of mind—if the unexpected happens.  
Term life insurance helps financially protect your family. 
In the event of an untimely death, term life insurance can help provide financial support. Term life insurance helps make sure that you can cover costs like childcare, a mortgage, or day-to-day bills. (Here's what families need to know about term life insurance.) 
Term life insurance is a smart choice for stay-at-home-parents and working parents.
You might think that if the breadwinner of the family is covered, you're all set. While, yes, it's important to cover a working parent's income, it's just as important to put a financial safety net in place should anything happen to a stay-at-home parent, too.  
In fact, did you know that it would cost an estimated $162,000 to replace a stay-at-home parent? That is, if you were to outsource all the jobs that a single SAHP does—from cooking and cleaning to childcare and all the myriad tasks involved to just getting through a day—it really adds up. And that doesn't count the overtime for those nights when your toddler refuses to go to sleep despite the hundreds of times you read (and reread) their favorite book.  
Applying for term life insurance is quick and easy. 
Even if you're sold on the value of term life insurance, we know what you're thinking…who has time to apply for coverage when you can barely finish a cup of coffee before it gets cold?! Fortunately, in addition to lending peace of mind, Haven Life's term life insurance is a snap to sign up for. You can get a quote instantly. Then, you'll start the online application process, and you'll get an immediate decision on coverage eligibility. If approved, your coverage could start that same day! 
Locking down term life insurance now will give you more bang for your buck.
It can be easy to put off big tasks until tomorrow…or the next day…or the next year. You might be tempted to wait to sign up for life insurance until your kids are older…or you are. But the simple math is this: The younger and healthier you are, the cheaper your life insurance will be over the long run. If you are in your 20s and in excellent health, then you can expect to pay less than if you'd signed up in your 40s. The sooner you get your policy started, the less money you'll have to spend! 
Term life insurance offers financial security…for an affordable monthly fee! 
But don't worry…there's no need to sweat yet another big baby expense (as we said, kids are pricey!). While your term life insurance rate will depend on a few individual factors, term life insurance through Haven Life is affordable. Use our quote tool to get a quote now! 
Happiest Baby has teamed up with our friends at Haven Life to bring families an affordable and dependable term life insurance option, and we will receive a referral fee if you choose to sign up. 
Haven Term is a Term Life Insurance Policy (DTC and ICC17DTC in certain states, including NC) issued by Massachusetts Mutual Life Insurance Company (MassMutual), Springfield, MA 01111-0001 and offered exclusively through Haven Life Insurance Agency, LLC. Policy and rider form numbers and features may vary by state and may not be available in all states. In NY, Haven Term is DTC-NY. In CA, Haven Term is DTC-CA. Our Agency license number in California is OK71922 and in Arkansas, 100139527. 
View more posts tagged, insurance
Have questions about a Happiest Baby product? Our consultants would be happy to help! Submit your questions here.
Disclaimer: The information on our site is NOT medical advice for any specific person or condition. It is only meant as general information. If you have any medical questions and concerns about your child or yourself, please contact your health provider.