13 Kids Books That Celebrate Latinx Stories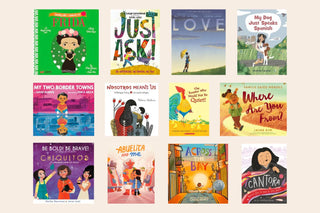 Each year, we observe National Hispanic Heritage Month from September 15 to October 15 by celebrating the history, the culture, and the myriad contributions of those from Spain, Mexico, Puerto Rico, Argentina, and more. This year, include your child in the festivities by adding some of these books that celebrate Latinx stories into your storytime rotation! From board books for babies to award-winning picture books for big kids, there's no doubt that you'll find so many libros that your niños will adore!
Written and illustrated by Paloma Valdivia
If you love the classic children's book Runaway Bunny, you'll for-sure adore this beautiful bilingual tale of a mama and her tot imagining themselves as a variety of animals and showing how precious their bond is. This picture book's unique illustrations are charming and unforgettable, while the words are sweet and poetic, making Nosotros Means Us a just-right read for little ones up to 5 years old—and a fantastic way to start building up your bub's bilingual vocabulary.
Written by Leonarda Carranza, illustrated by Rafael Mayani
This poignant, empowering, and important children's book is a must-have addition to any child's home library. Author Leonarda Carranza skillfully addresses racism and microaggressions through the experiences of a young child and her granny (abuelita) who are running errands. The intergenerational pair shows bravery, grace, and empowerment—while teaching readers that treating others poorly because of their differences is wrong. There's little wonder why Abuelita and Me has snagged numerous awards, including being named one of the best books of 2022 by Kirkus and the International Latino Book Awards. 
Written by Sonia Sotomayor, illustrated by Rafael López
What do you get when you cross a Latina Supreme Court Justice with an award-winning Latino artist? The answer: Justice Sonia Sotomayor's bestselling children's book Just Ask! This Amazon Teachers' Pick celebrates how the differences and varying abilities among all of us should be viewed as special powers, not detriments. Through fresh and spunky illustrations, readers witness children working together to build a community garden, each asking poignant questions along the way.
Written by Matt de la Peña, illustrated by Loren Long
Get the tissues ready! This bestselling and award-winning picture book masterfully hugs your heart, stirring up all the love inside with its poetic prose and gorgeous illustrations. Here, readers are given magnificent glimpses of the many ways we experience love throughout childhood and beyond. (Love is the sound of the first voices we ever hear; it is the color of the night sky over a happy home; it is the echo of summer laughter.) This tender tale is sure to be a new classic. (You can also pick up the Spanish language version Amor.)
Written by Patty Rodriguez & Ariana Stein, illustrated by Citlali Reyes
Part of the Lil' Libros bilingual board book series, Counting With Frida introduces little ones to the iconic Mexican painter Frida Kahlo…all while teaching them how to count to 10 in English and Spanish. Simple and sweet, each of the lively illustrations lean on Kahlo's famous style and known works. Bonus: The length of this board book is perfect for a baby's limited attention span! (Find more number books for babies and toddlers.)
Written and illustrated by Carlos Aponte
Armed with an old photo and a full heart, a young boy named Carlitos sets on a journey through the heart of Old San Juan to find his papi. Across the Bay is not your typical wrapped-up-in-a-bow children's book. Instead, it gracefully and honestly illustrates the true meaning of family and home, which is based on author/illustrator Carlos Aponte's own childhood in Puerto Rico. This enchanting picture book is perfect for the 3- to 7-year-old set.
Written and illustrated by Melisa Fernández Nitscheoung
Invite your child into the world of Argentinian folk singer extraordinaire Mercedes Sosa, who turned her artistry into activism with songs that spoke to what it truly means to battle injustices in Latin America. Her music was so powerful, in fact, that she was forced into self-exile when her home country was taken over by a military dictatorship. But that didn't stop Sosa from dedicating her life to being the voice of the voiceless. This bright and breathtaking book is designed to inspire and empower young readers (age 4 and up) across the globe…including yours!
Written by Yamile Saied Méndez, illustrated by Jaime Kim
It's easy to see why Where Are You From? has garnered so many prestigious book awards! Not only are the illustrations captivating and heart-warming, the story is a lyrical powerhouse. Here, a little girl who's always fielding the title's question, but doesn't have a simple answer, learns all about self-acceptance with the help of her beloved abuelo (grandfather). This is a wonderful story for children 4 and up to enjoy, but especially for those who've ever felt they didn't belong. The Spanish-language edition, De Dónde Eres?, is also available.
Written by Carmen Agra Deedy, illustrated by Eugene Yelchin
Don't let this playful story about a sing-songy bird fool you! The Rooster Who Would Not Be Quiet! is a fantastic picture book that skillfully teaches children about human rights and the consequences of oppression. Geared toward kindergarteners through second graders, this Amazon Teachers' Pick is set in a happy, but noisy village of La Paz where the mayor outlaws loud singing in the street…then at home…then everywhere! But Rooster just won't stop and when the mayor threatens the town's favorite bird, a singing revolution begins!
Written and illustrated by Andrea Cáceres
When Aurora arrived in America from Venezuela, she learned to speak English…but her beloved pup, Nena, did not. That means, Nena doesn't understand sit, or wait, or treat, but she definitely knows siéntate, espera, and postre! This picture book is a sweet vehicle to explore code switching, learning a second language, and having to translate for others. My Dog Just Speaks Spanish is also a fun tool to help young readers practice reading—and learn English or Spanish terms!
Written by Alyssa Reynoso-Morris, illustrated by Mariyah Rahman
Abuela says, "plátanos are love." I thought they were food. But Abuela says they feed us in more ways than one. This is more than just a delicious story about cooking plátanos (plantains), it's about tradition, community, and most importantly intergenerational love between a doting abuela and her granddaughters. Written for children 4 and up, this joyous and lyrical picture book is sprinkled with Spanish words and heaps of warmth.
Written by David Bowles, illustrated by, Erika Meza
Available in English and Spanish, this multi-award-winning picture book tells the heartfelt tale of a father and son living on the U.S./Mexico border, and their weekend tradition of going to their favorite places on The Other Side. The pair visit a cherished restaurant, devour sweet treats…and drop off much-needed supplies to friends who are seeking asylum. The luminous watercolors and gentle words weave weighty realities into the everyday…and come together perfectly for children aged 4 to 8.
Written by Naibe Reynoso, illustrated by Jone Leal
Specially designed for the youngest "readers," this is the bilingual board book version of the original, Be Bold, Be Brave: 11 Latinas Who Made U.S. History. Within the pages, your little one will be introduced to notable Latinas such as Supreme Court Justice Sonia Sotomayor, astronaut Ellen Ochoa, famed singer Selena, Oscar-winner Rita Moreno, and seven more. This is the ideal book to start introducing your child to the countless Latinas who've made a difference in the world!
More Children's Books
Have questions about a Happiest Baby product? Our consultants would be happy to help! Submit your questions here.
Disclaimer: The information on our site is NOT medical advice for any specific person or condition. It is only meant as general information. If you have any medical questions and concerns about your child or yourself, please contact your health provider.